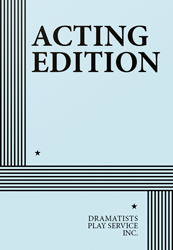 One Act, Comedy
2 men, 1 woman
Total Cast: 3, Flexible Set
ISBN-13: 978-0-8222-1396-3


MIN. PERFORMANCE FEE: $55 per performance.
THE STORY: THE UNIVERSAL LANGUAGE brings together Dawn, a young woman with a stutter, and Don, the creator and teacher of Unamunda, a wild comic language. Their lesson sends them off into a dazzling display of hysterical verbal pyrotechnics—and, of course, true love.