Variations on the Death of Trotsky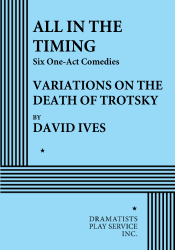 One Act, Comedy
2 men, 1 woman
Total Cast: 3, Flexible Set
ISBN-13: 978-0-8222-1396-3


MIN. PERFORMANCE FEE: $55 per performance.
THE STORY: VARIATIONS ON THE DEATH OF TROTSKY shows us the Russian revolutionary on the day of his demise, desperately trying to cope with the mountain-climber's axe he's discovered in his head.