Attack of the Giant Tent Worms
(Included in the volume DESIRE – SIX ONE-ACT PLAYS)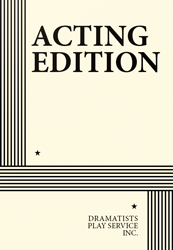 based on the short story by Tennessee Williams
THE STORY: Billy and Clara are nearing the end of their summer vacation on Cape Cod, as their cottage is being devoured by billions of tent-worms. Worse, Billy has just gotten word from his oncologist that there are no more treatment options for his brain cancer. A darkly humorous exploration of which is more terrifying: bugs or death?
"…You can hear Tennessee Williams's dramatis personae echoing through this evening of one-acts…" —New Yorker. "[DESIRE] is rife with agonized sexual longing, trembling Southern belles and spasms of violence…Most American playwrights working today owe some debt to Williams; it's a pleasure, even inspiring, to see six give back." —Time Out NY.