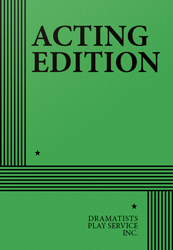 Part of the collection
ONE CHRISTMAS EVE AT EVERGREEN MALL
THE STORY:
ONE CHRISTMAS EVE AT EVERGREEN MALL follows eight intertwined stories in a Midwestern mall on the last day of shopping before the holiday. A diverse cast of characters—from a lovesick mall Santa to an over-eager mall cop, from a pair of brainy misfit teenagers to a pair of battling actors in a production of
A Christmas Carol
, from a petulant college freshman to a pair of newlyweds—navigate first meetings, second chances, and last-minute choices. ONE CHRISTMAS EVE wraps the joys and sorrows of the season into one festive package.
"…anybody who likes Almost, Maine…you're going to really appreciate ONE CHRISTMAS EVE…this one I think is very special…[in these] little sketches, some funny, some poignant, some sharp, never does the writing flag…if you're looking for something for Christmas…get this show, because I do believe that it's going to have a tremendous future…" —BroadwayRadio.com. "From the team that brought us one of 2016 Fringe's most celebrated plays—The Gorges Motel—comes a new piece: ONE CHRISTMAS EVE…Christmastime can be, as the various playwrights explore, the 'most wonderful time of the year,' but also the most stressful, painful, nostalgic, fraught, and silly…ONE CHRISTMAS EVE is a charming…evening of plays." —Theasy.com. "[ONE CHRISTMAS EVE] is charming throughout, and offers a number of both lovely and fun moments…it provides a feel-good holiday experience that may leave you with some fond memories." —HyReviews.com.