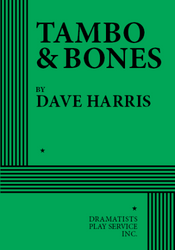 THE STORY: Tambo and Bones are two characters trapped in a minstrel show. It's mad hard to feel like a real person when you're trapped in a minstrel show. Their escape plan: get out, get bank, get even. A rags-to-riches hip-hop journey, this comedy roasts America's racist past, wrestles with America's racist present, and explodes America's post-racial future—where what's at stake, for those deemed less than human, is the fate of humanity itself.
Winner of Los Angeles Drama Critics' Ted Schmitt Award for Outstanding New Play.

"High-brow and brilliant!" —New York Magazine.

"TAMBO & BONES will make you second-guess everything you do in a theater… [Harris's play] gets the highest possible marks." —TheaterMania.

"…inventive and immersive, constantly shape-shifting to both unsettle and surprise us." —Indulge Magazine.