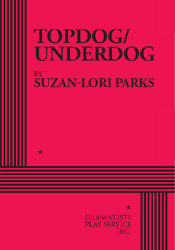 Full Length, Drama
2 men
Total Cast: 2, Flexible Set
ISBN-13: 978-0-8222-1983-5


MIN. PERFORMANCE FEE: $130 per performance.
Winner of the Pulitzer Prize for Drama
THE STORY:
A darkly comic fable of brotherly love and family identity is Suzan-Lori Parks' latest riff on the way we are defined by history. The play tells the story of Lincoln and Booth, two brothers whose names were given to them as a joke, foretelling a lifetime of sibling rivalry and resentment. Haunted by the past, the brothers are forced to confront the shattering reality of their future.
Included in
Broadway Book Club's Women's Voices Limited Edition Collection
Winner of the 2002 Pulitzer Prize. "…an utterly mesmerizing evening of theater…the vitality, freshness and gritty lyricism of Parks' writing are unlike anything to be heard on a Broadway Stage…" —Variety. "…[a] vibrant comic drama of shifting identity and betrayal…from the ferociously talented author of In the Blood and The America Play…" —NY Times. "The issues are gripping, the characters are dynamite…a must-see play." —Backstage.