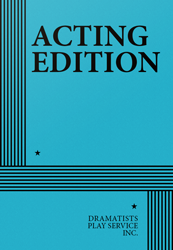 Full Length, Comedy
5 men, 3 women
Total Cast: 8, Flexible Set
ISBN-13: 978-0-8222-2229-3

THE STORY: A disastrous New Orleans wedding rehearsal dinner is the latest in a series of unfortunate events that befall the Clay brothers in Beth Henley's boisterous and bittersweet new comedy. Daddy's in jail for fraud, Uncle Baites has taken up with a panhandler, and Lafcad's just called off his own wedding. What family doesn't have its ups and downs? Winner of the Pulitzer Prize for Crimes of the Heart, Henley returns to her Southern roots with a vengeance in RIDICULOUS FRAUD, an equally outsized and even more achingly poignant saga of three grown brothers trying to outrun a family history that tends to the worst-case scenario.
"Ms. Henley shows how comedy at its best can heighten reality to illuminate the landscape of existence in all its mean absurdity." —NY Times. "Outrageous, funny, pathetic, and, as you may suspect from the title, fraudulent, these people are extracted from the fertile mind of a playwright who won the Pulitzer and the New York Drama Critics Circle Award for Drama in 1981 for Crimes of the Heart (subsequently released as a film in 1986). Henley filters her delectably skewed view of Southerners with a unique flair for instigating the improbable but possible. She continues in the poignantly comical vein that made some of her other plays (The Miss Firecracker Contest, The Wake of Jamey Foster, The Debutante Ball, and Impossible Marriage) so irrepressibly endearing." —CurtainUp. "It's a pleasure to again hear the sounds of Henley's distinct comedic voice, a deceptive lilt that often masks a deeper, darker side." —Associated Press. "Endowed with richly quirky characters, elegant writing and human behavior both funny and dark, FRAUD shows Henley at her best." —Hollywood Reporter.