Musical Cast Recording, CD
ISBN: 6200CD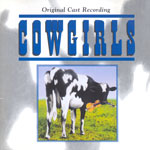 Track List:
1. Overture (Beethoven's Sonata Pathetique, Opus 13)
2. Three Little Maids (Gilbert and Sullivan)
3. Jesse's Lullaby (music by J. Brahms)
4. Ode To Connie Carlson
5. Sigma, Alpha, Iota
6. Ode To Joy
7. From Chopin to Country (music by Frederic Chopin)
8. Kingdom Of Country (music by C.Converse/M. Murfitt)
9. Songs My Mama Sang (traditional hymn, additional music by M. Murfitt)
10. Heads or Tails
11. Love's Sorrow/Looking for a Miracle (music by Fritz Kreisler/additional music by W.A. Mozart)
12. Don't Call Me Trailer Trash
13. Honky Tonk Girl
14. Every Saturday Night
15. Don't Look Down
16. They're All Cowgirls To Me
17. Saddle Tramp Blues
18. It's Time To Come Home
19. We're a Travelin' Trio
20. Sunflower
21. Concert Medley
22. House Rules
23. Cowgirls

Label: Fynsworth Alley
Listen to music samples:
Flash Player.