Musical Cast Recording, CD
ISBN: 6150CD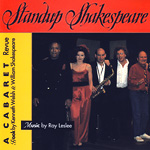 Track List:
1. St. Valentine's Day (Hamlet)
2. Shallow Rivers (The Merry Wives of Windsor)
3. By Gis (Hamlet)
4. Say That She Rail (The Taming of the Shrew)
5. Take O Take (Measure for Measure)
6. Jazz (various sources)
7. Come Away Death (Twelfth Night)
8. When In Desgrace (Sonnet 29)
9. I Know A Bank (A Midsummer Night's Dream)
10. I Do Love Thee (A Midsummer Night's Dream)
11. Sigh No More (Much Ado About Nothing)
12. Puck (A Midsummer Night's Dream)
13. O Mistress Mine (Twelfth Night)
14. Let Me Not (Sonnet 116)
15. Shall I Compare Thee (Sonnet 18)
16. Love Is Perjured (Romeo and Juliet)
17. Hey Ho! (Twelfth Night)

Label: Bard
Listen to music samples:
Flash Player.